Jody Adams: Who's Who in Food & Beverage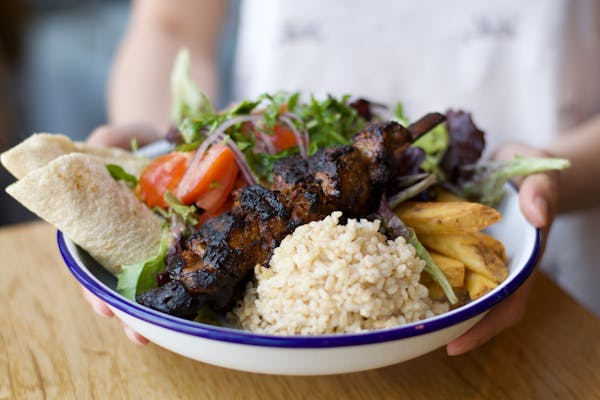 Our very own Chef Jody Adams was just inducted to the James Beard Foundation's "Who's Who" in Food & Beverage of America - an incredible honor! Chef Jody was voted onto the "Who's Who" List by her culinary peers and joins an impressive list of women and men who have helped to shape the culinary world! Chef Jody has been recognized for her immense contributions to the culinary scene over the course of her career and now, officially, is honored with a spot on the list!
This is a major cause for celebration, and what better way to celebrate than by featuring a Jody Adams AND James Beard favorite: Lamb! For a limited time only, join us for Lamb Souvlaki! Enjoy it was a skewer, wrap it up in a pita with tomatoes, onions, fresh herbs, spicy slaw, lettuce, fries, hot pepper yogurt, and secret sauce, or dig into the same on a plate!
Plus, $1 of each Plate/Pita will directly benefit the James Beard Foundation Women in Culinary Leadership Program!
About the "Women in Culinary Leadership Program":
The Women's Leadership Programs address the most pressing issues female chefs face, from the struggle for acceptance within the traditional kitchen "boy's club," to establishing a network of esteemed and knowledgeable colleagues, to moving beyond simply being a great chef and becoming a successful business owner. Conceived six years ago, the Women in Culinary Leadership program was founded as a means of shattering the "gastro-ceiling," pairing emerging female chefs with top industry leaders in a mentoring, learning-by-doing environment. The program gives women with a background in hospitality or the culinary arts, and at least two years of relevant work experience, a chance to work with top industry leaders and build in-depth skills in the kitchen or in restaurant management and hospitality. Since its inception, 38 mentees have completed from the program under the guidance of 28 mentors. We are nearing the close of the 2018-19 application period, and expect approx. 20 more mentees set to accept invitations to begin their Women in Culinary Leadership journey this year. According to Rohini Dey, JBF trustee and co-founder of the program, "This program is about giving women the skills to lead, the confidence to speak up, and the impetus to dream bigger. Our fundamental goal is to help more women stay the course, build grit, aspire for scale, lead kitchens, and become preeminent restaurateurs."